From the second you said "yes" to your best friend, you have most likely been daydreaming about your wedding day look. Luckily, there are many steps you can follow, along with others we don't recommend, to guarantee your wedding hair is a dream come true. 
You may be wondering if you should wear your hair up or down, if you can do your hair yourself, or when you are supposed to book a stylist. All brides want to look and feel the best on their wedding day. Salon & Spa De Crist is here to make that happen with the best hair tips to prepare you for the big day.
Wedding Hair
Do's and Don'ts
Let's start with a few wedding hair don'ts.
Don't: Ask for advice 
Brides tend to rely on their friends and family for advice on their wedding look. Asking for too many opinions can leave you feeling conflicted, confused, and overwhelmed. Furthermore, asking too many people's advice could leave you wanting to please your friends and family over what you personally love. Salon & Spa De Crist recommends asking one person whose style is similar to your own along with your hairstylist.
Don't: Decide
wedding hair
before the wedding dress
The wedding dress plays an important role when deciding your wedding hairstyle. Always choose the dress before the hair and accessories. Your wedding hair, accessories, and glam should accentuate your dress, making the entire look cohesive.
The following tips are basic wedding dress and hair ensembles:
Princess ball gowns look best with romantic updos. 

Strapless wedding dresses look gorgeous with half-up/half-down hairstyles or loose updos.

Beachy dresses are beautiful with flowy, wavy curls. Add flowers in to pin some of the hairs in the front, back for an effortless look.

Spaghetti strap wedding dresses look flawless with soft waves or a casual updo.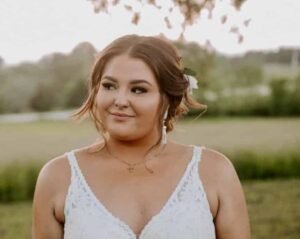 In general, when the dress is busy by the neck or bodice, opt for an updo to compliment the details. On the other hand, if your dress is strapless and simple towards the neck, wearing your hair in an updo can highlight your bare neck and chest maybe too much.
Don't: Schedule your
wedding hair
trial too early
At Salon & Spa De Crist we recommend scheduling your hair trial four to six weeks before the big day. Scheduling the wedding hair trial too early can result in indecisiveness between the trial and big day along with time to second guess. Moreover, many brides may have hair accessories or glam figured out by the trial, and all of the details matter when deciding your hair. 
During the trial, be honest and open with your hairstylist on expectations. Keep the final hairstyle intact the rest of the day to ensure the style will hold up throughout the big event. 
Don't: Do anything drastic
As your wedding day gets closer and closer, do not get a last-minute color or cut, especially between the wedding hair trial and your wedding day. Avoid drastic changes to your hair, even if it seems like a good idea at the time. Try to touch up your roots at least a week before the event, and keep your hair healthy with vitamins and the best products before your big day.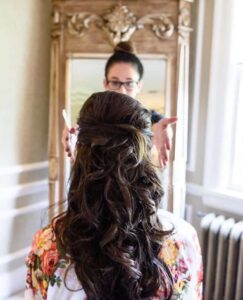 Don't: Wash your hair the morning of your wedding
Even though washing your hair the day of your wedding may seem obvious, experts recommend washing your hair the day before the wedding. Especially if the wedding hair you chose is an updo, washing your hair the day before is best for hairstylists to work with. Treat yourself the day before to a restorative hair treatment or mask to brighten the color while adding voluminous life to your locks before the big day. 
Now, Salon & Spa De Crist discusses the top wedding hair DO's.
Do: Find a collection of inspiration photos
Brides commonly become obsessed with one wedding hair look. Salon & Spa De Crist recommends finding a collection of inspirational photos to bring into the salon. Everyone's hair is different. Finding a collection of photos for your stylist and loving certain parts of each will help you and the stylist figure out what wedding look works best for your hair.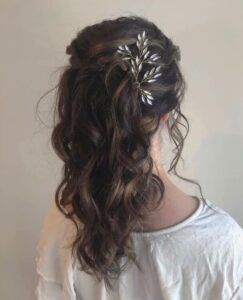 Do: Trust Your Stylist
Your wedding hair stylist was hired for a reason. Trust the stylist you chose to know what's best for your hair's texture and style. Your hair stylist, most likely, has worked quite a few weddings. Know that it is okay to have a few "bridezilla moments." At the same time, your stylist will fix what needs to be fixed and is here to make your wedding hair dreams come to fruition. 
Do: Follow Your Gut 
You should feel your most beautiful on your wedding day, but also feel comfortable in your own skin. Throughout the entire wedding process, not just choosing your hairstyle for the big day, make sure all the decisions feel authentic to who you and your partner are. Ask yourself, does this feel like me? Maybe choosing a hairstylist for the big day just doesn't feel right, and you would rather create your own wedding look. 
If DIY is what makes you the most comfortable, consider the following tips: 
Practice as many times as you need…and, then, one more time. 

Have a backup plan just in case.  

Be prepared with double the number of hairpins and hairspray you think you need. 

Use hair accessories to keep hair in place while also covering pins if needed.  

Enlist a friend to help.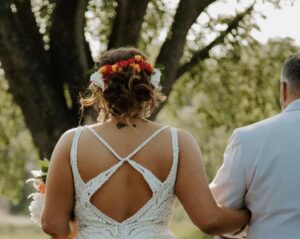 Do: Be prepared
Salon & Spa De Crist put together a general timeline of events for wedding hair.
Four to five months before the event, but after finding your wedding dress, start looking at Pinterest for hair inspiration. At the same time, research hairstylists in the area and schedule a few consultations. 
Three months before the wedding, hire your hairstylist, and book a trial run. 
Four to six weeks out, schedule a trim and your hair trial with the stylist.
Two weeks before the big day, if needed, touch up your hair color. 
1 week before, don't forget to confirm all the times and details with your stylist. 
Do: Enjoy your special day
Last, but most importantly, enjoy your special day with your partner! By following the tips on wedding hair do's and don'ts, you will be prepared and love your final wedding look. Hair professionals at Salon & Spa De Crist are dedicated to making your wedding hair dreams into a reality! Call us today to schedule a consultation.