Healthy hair is what everyone wants, but can seem overwhelming to achieve. In a world filled with heat tools, extreme dye jobs, and blowouts, the luxurious healthy locks you dream of can feel out of reach. However, even the most damaged hair can be revived. Salon & Spa De Crist is here to give tips and tricks to attain the shiny, strong hair you've always wanted.
13 Tips for Healthy Hair
Taking the time to care for your hair is so important. While there are some tips that you can do today, the journey to healthier hair is just that…a journey. Commit to following healthier hair habits, and get ready for stronger strands.
1. Stay hydrated
Many experts recommend drinking 8 8-ounce glasses of water per day to stay hydrated. The benefits of staying hydrated are endless, but did you know hydration is one of the best ways to keep your skin and hair healthy? Just like plant roots need water to grow, so do the roots on your head. If you are struggling with dry, brittle hair, the first step to take is to drink more water. 
Stay hydrated to keep your entire body functioning well, including your hair. 
2. Focus on your scalp
Healthy hair begins with a healthy scalp. Pay close attention to how your scalp feels when starting your journey to healthy hair. A dirty scalp with product buildup can clog pores and follicles, slowing down the healthy growth of your hair. Maintain a balanced scalp with the right products and care. If your scalp feels itchy and dry, Salon & Spa De Crist recommends a clarifying shampoo to promote healthy, fresh hair.
Hair Extensions and Your Scalp
While hair extensions can look amazing, remember to invest in quality hair extensions like REMY. Many extensions pull at the scalp, causing damage over a long period of time. Be completely aware of the upsides and downsides of hair extensions, and talk with your hairstylist at Salon & Spa De Crist about the best option for you.
Scalp Massage
Add a scalp massage to your self-care routine and thank us later. Massaging your head improves the blood circulation to the scalp. Consequently,  the cells are more stimulated, helping hair grow and stay healthy. Plus, it feels good!
3. Take your vitamins
On your next trip to the grocery store, visit the vitamin aisle for nutrients you need to get healthy hair. The vitamins you take have a direct impact on the health of your hair. Fish oils, iron, zinc, Vitamin C, D, and B-complex are all key vitamins that benefit your hair, skin, and so much more.
4. Eat a balanced diet
Because your hair is over 80% protein, eating a balanced diet of protein-rich food is crucial. Incorporate fish, meat, eggs, and beans into your diet along with foods filled with Vitamins C and E. Berries, dark, leafy greens, and nuts are rich in antioxidants and vitamins C and E. Remember, eating good sources of protein, vitamins, nutrients, and collagens will boost the health of your hair and skin tremendously.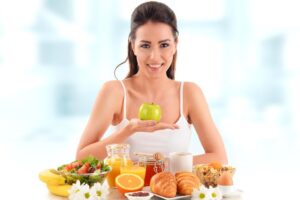 5. Switch up your hair washing routine
When and how often should I wash my hair? A commonly asked question with so many different answers. Salon & Spa De Crist recommends washing your hair when it feels dirty. Everyone's hair is different, but water makes hair expand from the inside which pushes the hair cuticle up. When the cuticle is pressed up, hair gets stripped of its natural oil and moisture. Skipping a day or two of washing your hair and embracing a quality dry shampoo will do wonders to get healthy hair. 
6. Cooldown your shower
A steaming hot shower can feel soothing and relaxing, but a cold water rinse is a ticket to healthy hair. Taking extremely hot showers irritates your scalp, weakening your hair. Finish your shower with a cold rinse to seal the cuticles shut and boost shine.  
7. Condition with care 
Depending on the length of your hair, use the appropriate amount of conditioner. Short to medium length hair only needs a nickel-size drop of conditioner. Apply it to the middle of your hair, down to the ends. Slowly work your way up to the scalp, and leave the conditioner in for 1 to 3 minutes.
8. Brush your hair correctly
Brush your tangles out before you wash your hair to spread the natural oils from your scalp down to the ends. After the shower, untangle your hair gently with a wide-tooth comb. With that said, opt for a natural boar bristle hairbrush instead of a plastic bristle brush. The natural boar bristle hairbrush will be gentle and less damaging to your locks and the natural texture of your hair. 
9. Try hair masks
During your journey to healthy hair, treat yourself to moisturizing and hydrating hair masks at least once a week. Weekly hair treatments can even be DIY. Depending on if your hair is dry or flaky or greasy, there's a hair mask perfect for you.
10. Schedule a trim regularly
Regular hair trims are vital to maintaining healthy hair. Every 2-3 months, sit down with your hairstylist and let them rid your head of damaged ends and breakage. Many people believe hair trims are counteractive to hair growth, but booking an appointment with your hairstylist is the best step to luxurious, healthy hair. 
11. Avoid heat as much as possible
Unplug your heating tools, and let your hair breathe. Consider a heat-less hair routine to get the healthiest hair possible. Try leave-in conditioner, fun ponytails and braids, and natural hairstyles instead of the straightening and curling irons. Reduce the amount of heat applied to your hair for the healthiest locks possible. 
If heat is necessary, make sure to invest in a heat-protectant spray. 
12. Invest in the right products for
healthy hair
When shopping for hair products, there are a few key ingredients to pay attention to. Experts recommend incorporating coconut oil, Argan oil, aloe, or spirulina into your hair routine. Opt for color-protecting products for hair that has been colored professionally. There is an abundance of products to choose from in our world, so make sure to talk to your hairstyles about what products are best for you and your hair. 
13. Trust your hairstylist
Last, but not least, trust your hairstylist to help you make the best decisions for your hair. The team of professionals at Salon & Spa De Crist is highly trained and knowledgeable about all your salon and spa needs. Tell your hairstylist you are ready for healthy hair, and Salon & Spa De Crist will direct you to the best products and tips to get your locks strong, shiny, and healthy.